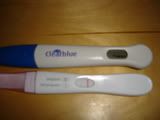 October 16th, 2007: I was only 5.5 weeks, but we were very excited and surprised ~ we had conceived on the very first try! I had a blood test to confirm and YUP - we had done it!
Two days later my doctor had me repeat the blood test to make sure the pregnancy was progressing the way it should. Well, it wasn't. We had a miscarriage in late October 2007. It was very early, but that didn't make it easy. But we had the support of our families some close friends who we told, so although it was very tough, we slowly moved on.
I guess it was more quickly than slowly.....We tried again and got our 2nd positive pregnancy test on January 8th! (Well, let's be honest, I had more than 1 positive test. It was more like 5! The picture here is a snapshot of 2 of them.) A doctor's appointment on January 11th confirmed it, and a second blood test assured us that things are progressing much better this time. "Looks excellent," my doctor said when she gave me the news of my second blood result. We were very relieved.
Now we're just praying to see the little bean and (hopefully!) a heartbeat at our first ultrasound on January 24th. It will be early to see a heartbeat, but we're optimistic. Keep us in your prayers!